Reaching more than 95% of Australia's population, Southern Cross Austereo (SCA) is one of the country's leading media companies.
The organisation spans radio, television, and digital assets, delivering entertainment and media solutions across an extensive portfolio of multimedia brands. With an innovative approach to business, the team at SCA are always looking for new ways to leverage technology for growth.
Industry
Advertising
Media
Broadcasting
Solution
Salesforce Sales Cloud
Salesforce Service Cloud
Salesforce Experience Cloud
Key Results
Fully integrated Salesforce Customer Relationship Management (CRM)
Established foundation for branded customer portal
Time savings from automated processes
Improved advertisement tracking and reporting
330% increase in accounts
66% growth of new business
40% growth in renewal opportunities
98% more opportunities won
Challenge Overview
SCA's radio stations reach over 7.7 million listeners while their regional TV reaches more than 2.7 million viewers each week.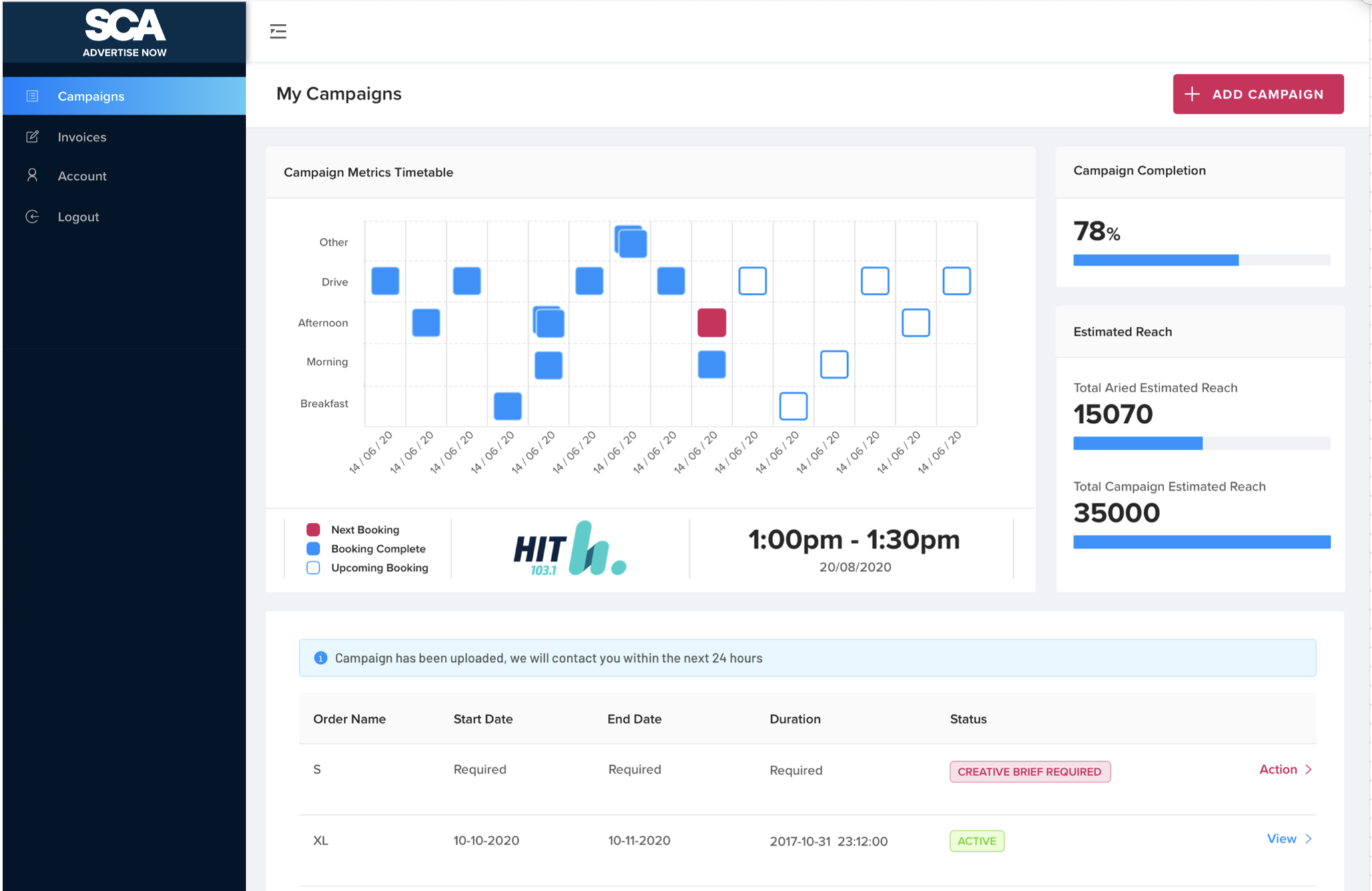 To support their current advertising customers and drive new opportunities, SCA wanted to product test a purchase journey with Salesforce for a new digital initiative they're working on.
Lots of manual processes involving account management, sales, finance, reporting, and other areas of the organisation led to slow down of closing deals and revenue loss. To save time and cut costs, SCA needed in addition to their modern CRM and portal that integrated right back into it. The Salesforce platform ticked all their boxes – from deeper insights to faster processes and better customer and employee experiences.
Goals
As a team of open-minded professionals, SCA were looking for ways to streamline their business processes while laying the foundation for future innovation. For this project, they were focused on achieving four main business outcomes.
1. Test and develop a strong foundation for a digital innovation project designed to boost revenue, support existing customers, and unlock new opportunities.
2. Track customer campaigns from start to finish through a custom dashboard.
3. Automate processes and gain deeper insights across the organisation with a fully integrated Salesforce CRM.
4. Improve reporting capabilities.
"We were looking for a partner who could see eye-to-eye with our team and help speed up our digital initiatives. We have a lot of trust in the team at J4RVIS because they take a professional approach and understand our business as well as the intricacies of the media industry."
Ivan Curic
Head of Sales Platforms and Development
Southern Cross Austereo
Solution
J4RVIS worked closely with the SCA team to design a Salesforce solution that would support their vision. The first phase of the project was focused on testing technologies and systems to improve the customer experience for advertisers.
"As a business, we're focused on innovating and looking at ways to leverage technology to bring in new customers and support our existing base. We briefed J4RVIS on what we wanted to achieve and were extremely impressed with what they delivered," said Ivan.
Once the customer experience testing phase was complete, J4RVIS launched into phase 2—implementing a Salesforce CRM across the business. SCA needed to move an additional 250 sales staff and sales-related functions onto the CRM while also rolling it out to the remainder of the organisation. The new processes were then standardised with post-launch training for effective adoption of the new setup.
"J4RVIS recognised the specific challenges, and potential opportunities, for our business and worked collaboratively throughout to ensure they delivered a solution that truly met our specific goals and objectives."

Laying the Foundation for Innovation
During the product test and learn phase, SCA wanted to try different approaches to increasing revenue and providing a better experience for customers.
J4RVIS experts took the time to understand the organisation's vision for the future so they could design and implement the most effective solution. "It's great to work with a partner who is outcome and solution focused because they're able to provide objective feedback to support our vision," said Ivan.
"J4RVIS understands our business on multiple levels—from identifying our challenges to being proactive and providing recommendations that help us get to where we want to be in the future. Their collaborative approach and expertise have made the partnership extremely successful."
To drive more revenue, J4RVIS worked with SCA to develop a technology solution that delivers a better customer experience as well as a deeper understanding of who they are through data-rich insights. It also provides more automation across the advertisement purchasing, management, and tracking process.
The testing phase was a huge success and empowers SCA to improve engagement with advertisers and unlock more opportunities through automation and digital innovation. "This foundational piece is crucial for the next stage of our technology journey and we're thrilled to have a trusted partner along for the ride," said Ivan.
Optimising Operations with Automation and Deeper Insights
To keep up with industry trends, increasing demands, and the fast-paced media industry, SCA needed a modern CRM.
J4RVIS designed a Salesforce solution that delivers faster operations, better digital experiences for both customers and staff, and simplified processes. "Our new Salesforce CRM has empowered our teams to work smarter and faster—from sales to finance and marketing," said Ivan.
Working to a tight timeline, SCA needed the solution designed, integrated, and implemented before Christmas break. J4RVIS used an agile approach to achieve the desired outcomes in time for the deadline and in a cost-effective manner. The solution has optimised the sales process, reporting, and forecasting within the business.
Stakeholders across the business were involved to ensure key challenges were factored into the plan. SCA put a lot of hard work into building a roadmap and J4RVIS collaborated closely with their team to make sure the solution matched their vision.
SCA now have a standardised way of working, including setting up customers, managing sales activity integrated back into traffic management systems and completing other key processes such as material instruction creation and fulfilment across the organisation. To ensure the new system was adopted and maintained properly, J4RVIS worked closely with the SCA team to provide post-launch support and training.
"Post-launch is when the tough work happens because shifting existing patterns of behaviour can be extremely difficult. The ongoing support we received was crucial for the success of the project," explained Ivan.
"Our challenges are quite unique, so working with a technology partner that can work with the nuances surrounding media provides huge benefits. We've been working with J4RVIS for three years and look forward to developing and launching our next phases with them."
Ivan Curic
Head of Sales Platforms and Development
Southern Cross Austereo
The Future
The project has had a positive impact on both SCA's team and their customers, setting the organisation up with a solid foundation for innovation.
They now have the technologies and systems to launch their next digital phase which will focus on delivering an advanced customer experience using automation and integration.
Featured Case Study
7mins
|
15/10/2022
Grill'd: Powering Efficient Growth with Smarter Integrations
Grill'd needed integration and automation solution that would empower the organisation to grow and innovate by leveraging their existing technology assets, instead of being negatively impacted by them. The MuleSoft solution delivered by J4RVIS was one of the key pillars in this journey.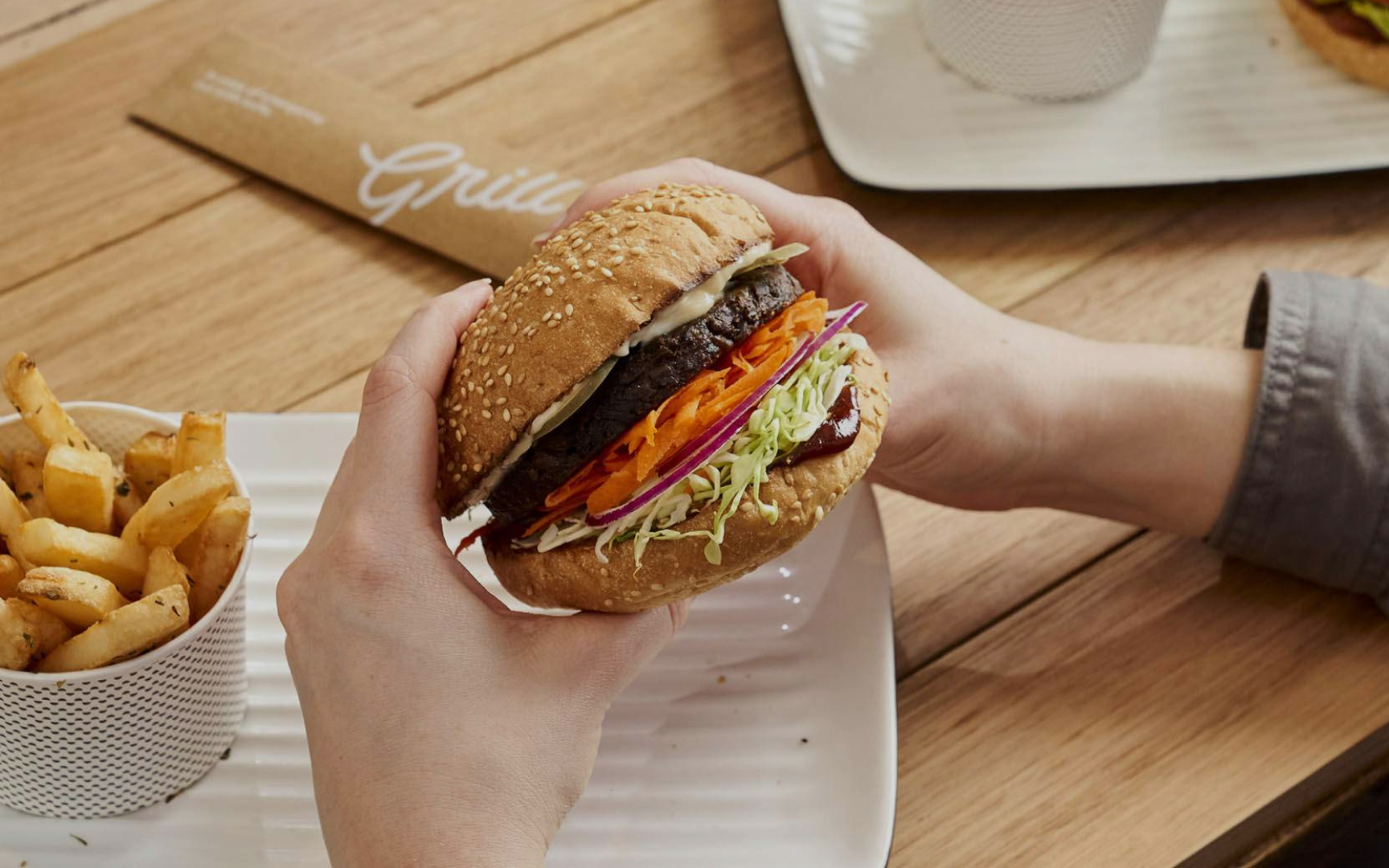 Keep exploring
Integration
7mins
|
11/10/2022
How to Supercharge Your Digital Transformation with MuleSoft
Learn how to speed up time to market, deliver better customer experiences, & build supply chains using an innovative API strategy.
Integration
4mins
|
18/10/2022
5 Reasons Your Retail Business Needs a Smart API Strategy
With changing customer behaviour and technological developments, the retail industry is in a constant state of flux.
Want to know more about supercharging your digital transformation with effective API integration and management?
Get in touch to see how J4RVIS and MuleSoft can help fast-track your journey to an agile, scalable, and data-driven business.